Oral Presentations
Description: If you are selected for an oral presentation, it is important to keep in mind that you are presenting to a general audience who does not know your discipline. Therefore, your talk should translate your ideas using non-technical language. If you use a PowerPoint presentation, keep in mind that your slides should contain more images, figures, and other visuals than textual content. There are many examples online as to how to prepare a talk like this, such as a TED Talk. Here are a few resources:
Oral Sessions in the Context of Research Day: There are a limited number of slots for oral presentations due to the amount of time. Oral presentations will be placed into different concurrent sessions throughout the day with every attempt to provide in each session a mix of various topics that represent some of the numerous scholarly activities that take place here at CUA.
Requirements: The talks will be limited to 12 minutes (10 minutes for the talk and 2 for questions and answers). You will be required to submit your slides to the chair of your session one week ahead of time. If you are presenting as a group, it is recommended that you limit the presenters to 2 or 3 given the time limitations. For each presentation, there needs to be one primary presenter that serves as the main contact for the group.
Get Help with Your Presentation at The Writing Center
As you work to develop and polish your project, please consider making use of The Writing Center. Located in 219 Mullen Library, The Writing Center can assist you at any point in the process with preparing a rhetorically effective poster or presentation. Appointments can be made via the
Writing Center website
. Walk-in appointments also are welcome.
Posters
Sample Posters
(Click images to enlarge)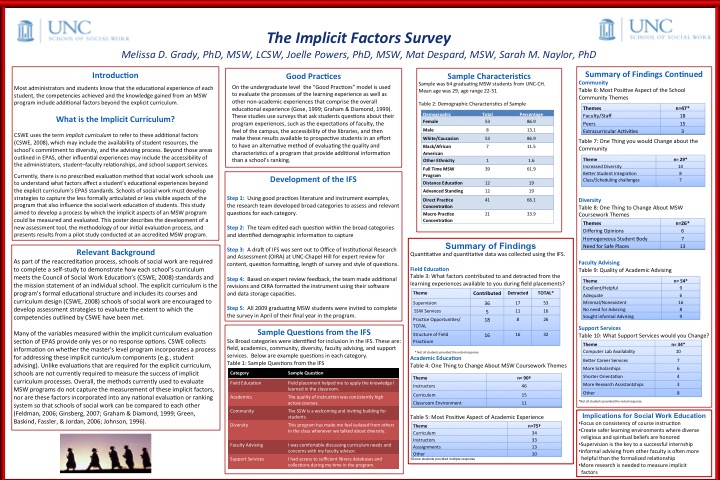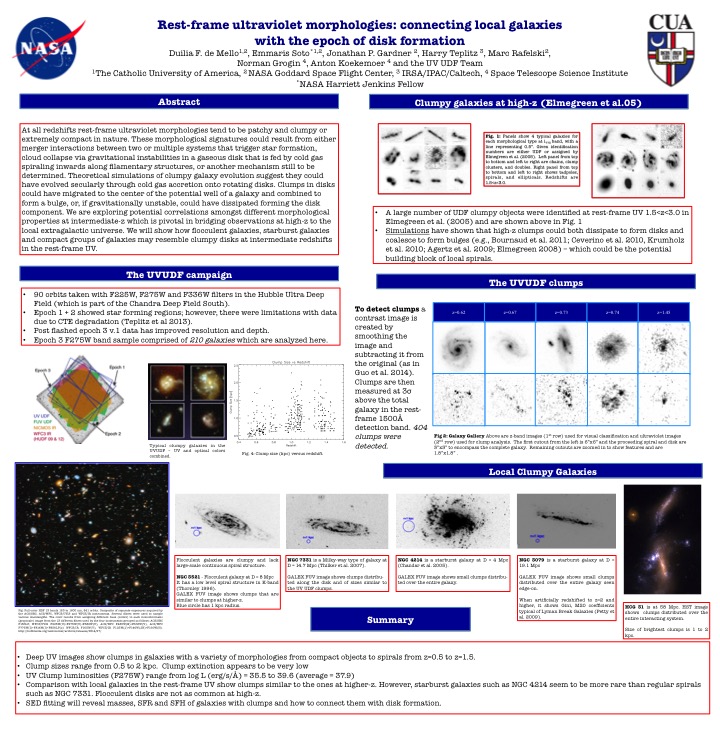 Description: A poster format is a great way to engage conference participants and discuss your work using graphics and visual aids on a poster board. There will be no audio/visual equipment allowed in poster sessions. To be consistent with the theme of the day, posters should be designed to translate your ideas to a general audience. Most attendees wander through the posters, stopping to review or discuss those that pique their interest. You may also supplement your poster with a handout that summarizes your work and provides contact information for further follow-up.
Poster Sessions in the Context of Research Day: Poster presentations will be displayed in the Pryz Great Room. Presenters will be organized in alphabetical order in an effort to spread out the topics and disciplines. The two-hour poster session will be from 1:30 - 3:30 p.m. Posters should be set up and presenters ready by 1:30 because the initial round of judging will take place between 1:30 and 2:00. Final judging will take place between 2:30 and 3:30 pm.

Presenters should be prepared with a three-minute presentation to explain their research. Posters will be judged on the presentation, poster content, and poster appearance.
Dimensions/Requirements: You can create a poster using different software, including powerpoint. and then send it to a printing company, including the Pryz, Kinkos, or Staples. Poster presentations (whether laminated or printed on regular business paper) must be no more than 24" x 36" in order to fit on the poster boards. Your poster must be stiff to stand on a poster stand. You can either get your poster mounted on a foam board at the time of printing or you can self-mount your poster onto a poster board which you can buy at most craft or office supply stores. Here is an example, http://www.officedepot.com/a/products/434415/Office-Depot-Brand-72percent-Recycled-Tri/ or http://www.staples.com/Elmer-s-White-Corrugated-Display-Board/product_302919.
For Students: You should be working with a faculty member to help you with your poster. The Office of the Provost has offered to pay the cost of printing Research Day posters for students only at the Pryz. The deadline for submitting your poster printing request to Pryzbyla Management is April 3.
Catholic University Printing Services Large Format Printing Guidelines: Catholic University Printing Services offers large format printing services that provide a convenient and economical resource to the Catholic University community at an extremely competitive cost with quick turnaround and excellent quality. Here are some tips for creating and submitting your poster:
Deadline to submit your poster: April 3rd
Poster size: 36"x24"
Create your poster in PowerPoint or other software
Save it as a PDF file
Email your PDF file: cua-printing@cua.edu or you can drop off a USB/Flash Drive
Printed on semi-gloss paper
Posters are not mounted, so you'll need to purchase foam board to attach your poster. Foam board is available for purchase for $5.
We'll email you when your poster is ready for pick-up in Pryz 125.
Pick-up in Pryz 125 M-F, 9 a.m. to 5 p.m.
Have more questions? Please call Lisa Whibley at 202-319-6627, or email whibley@cua.edu.
Tips for Creating Your Poster:
Create your document to the exact size of your poster. In PowerPoint, click: Design > Slide Size > Custom Slide Size > Sized for "Custom" then add your parameters.
Create your research poster.
Save your document then Save As/Convert your document to a PDF
Submit your PDF file (either via email to cua-printing@cua.edu or on a USB Drive
Interactive Research Demonstrations
The interactive research component of Research Day is for research projects that incorporate extensive audience participation. The purpose of the interactive research demonstration is for the researcher and the audience to participate in a greater degree of interaction than they would in a standard panel or poster format.

The interactive research demonstration provides an opportunity for researchers of all disciplines to communicate their work to a broader audience. As such, applicants for the interactive research demonstrations must present work that is accessible, engaging, and polished.

We welcome and encourage creativity and variety in your submissions. Interactive presentations could include, but are not limited to:
virtual reality displays
research games
real-time experiments
a staged panel conversation, dialogue, or debate
technological demonstrations, research prototypes
dramatic/artistic presentations (plays, speeches, or songs) that require audience participation
architectural models
All demonstrations must be accompanied by a title (no more than 50 characters) and an abstract (no more than 500 words). Please also detail any special requirements or elements needed in the physical space, e.g., electricity, sound equipment, etc. You will have 10-12 minutes for your demonstration. We are happy to receive submissions from small teams or larger research groups. If you have any questions about the feasibility or design of your interactive research demonstration, please contact researchday@cua.edu before submitting.
Projects
Project submissions can include but are not limited to works of art, computer programs, digital or manual drawings, science displays, and models of buildings.Presenters should keep in mind that the project must be small enough in size that it is movable by the presenter without additional assistance and could sit or stand on a small display table.
Presenters are encouraged to have a series of talking points that identify the salient features of the project and seek to engage the general audience about the work being presented.
Performances
A performance presentation can be an instrumental, vocal, musical theater, or drama performance (solo and/or ensemble). The maximum length is 20 minutes.
Each performance must be preceded by a short oral presentation, directed to a general audience, stressing the most important scholarly aspects of the performance. Include a short background summary of the work, information about the author/composer, as well as a short discussion of technical, musical, aesthetic, and other interpretational challenges.