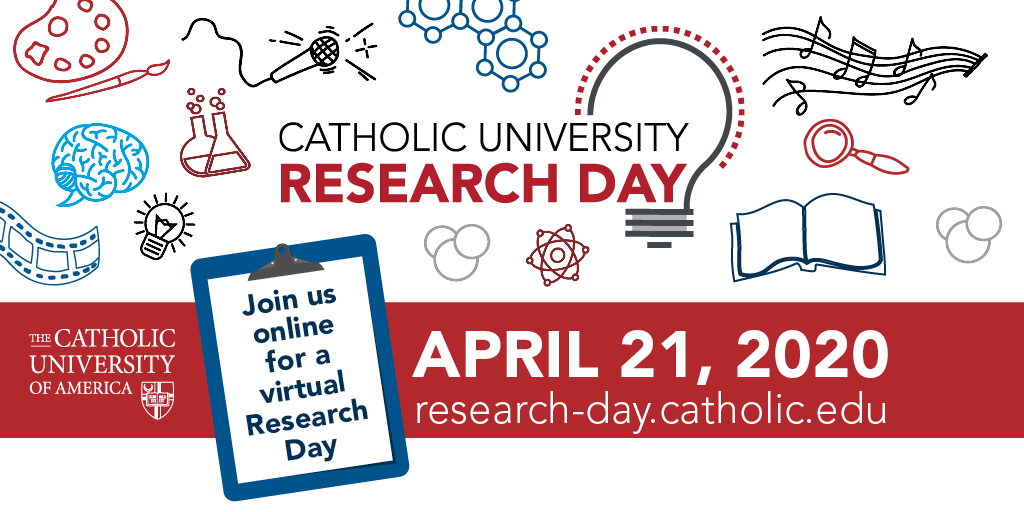 You're about to experience Catholic University Research Day 2020, where you will be able to explore the amazing array of research being conducted by the students, faculty and staff of The Catholic University of America. The hallmarks of this research are its innovation, novelty, and global nature, and it's appropriate that this year University Research Day itself comes in a form that is unprecedented, innovative, and, for the first time, available anywhere in the world.  
This event, which has become part of the culture of Catholic University, began in 2016 with the inspiration and hard work of NCSSS professor Melissa Grady. Former Provost Andrew Abela supported the effort and the first University Research Day Planning Committee spent many hours organizing the event. The first University Research Day was a huge success, and subsequent annual events have grown in numbers and introduced new additions, such as  performances and interactive demonstrations. 
In 2020, the Planning Committee faced a new challenge. As the campus swiftly switched to online education, Provost Dominguez asked us to consider the possibility of an online Research Day as a part of the instructional continuity effort.  We then heard from faculty and students, especially students who are graduating, that they were excited and ready to participate. COVID-19 hasn't stopped them from working on their research, and they wanted to share it!  
For our fifth Catholic University Research Day, our community is not only showcasing research projects from all over the University, but also proving that even in tough times we can pull together to do something new. 
This is, understandably, an event that has taken many hands to put together. We want to thank the University Research Day 2020 Planning Committee for their hard work, particularly the Web Services team, in this tough year. We'd like to thank Provost Dominguez for his strong support for research in general, and for this online University Research Day in particular.
Most importantly, we are also grateful to you, the presenters, University community, and our  family and friends, for your enthusiasm and excitement about this day. Enjoy!

Anita Shagnea and Xiaolong Luo
URD 2020 Co-Chairs